2022 Fireworks Over the Bay!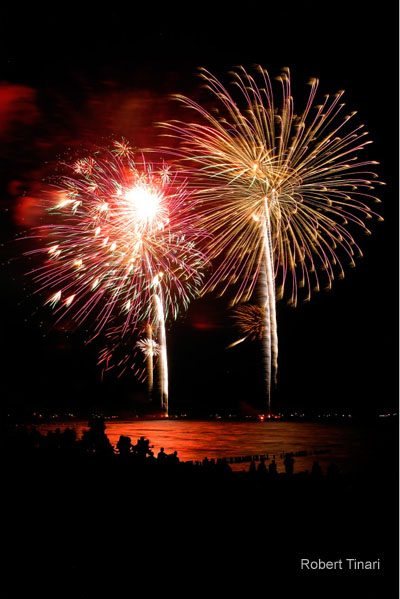 After a two-year gap, the Town of Chesapeake Beach is restarting their annual Independence Day fireworks celebration.  This annual event be held on July 3 with a rain date of July 9.  As in the past, CSHOA, with assistance from the County Sheriff's Department and the Town, will be closing the north and south C St. entrances to Chesapeake Station.  Beginning at 4:00PM, vehicle access to Chesapeake Station at Mears Ave. and at 17th St. will be restricted to those vehicles that have a valid Chesapeake Station sticker or carry a one-day parking pass.  Up to four one-day guest passes are available for Chesapeake Station households on a first-come, first-serve basis.  Passes are not required for pedestrians.  Passes may be requested from Carol OBrand (571-230-9343) for Carousel Way and Dentzel Ct. residents, Kim Brams (202-390-1866) for Overlook residents, and Paul Doherty (443-454-3637) for all others.  Requests may also be made by email to [email protected].
Chesapeake Station receives a lot of visitors on that day so please ask your guests to consider carpooling.  If your guests are arriving early, consider having them park in public areas and walk into Chesapeake Station.  If your guests don't have a parking pass, their vehicle will not be admitted even if you vouch for them.
Please NOTE – If you lease your property to others, we may not have your tenant's contact information.  Please ensure they are aware of the rules and restrictions that will be in place that day.
Parking is permitted in private driveways, with permission of the householder, or in the street.  However, please be considerate and do not park in a location that blocks a driveway or road access.  Remember that you are responsible for the conduct and safety of your guests.  And a final reminder: use of fireworks is prohibited.  Please instruct your guests that they may not set off firecrackers, rockets, or explode anything anywhere in Chesapeake Station, including your own yard.
Be aware of the traffic plan that the Town will put in place around the time of the start of the Fireworks.  The traffic plan is set up to eliminate left hand turns on a portion of Route 261 going through the Twin Beaches, enabling traffic to flow with minimal stopping.  The centerline of Route 261 will be blocked with delineation devices that will prohibit vehicles from making U-turns. Traffic north of Route 260 along Route 261 on the east side of Route 261 must make right turns and exit left on 5th Street to Boyd's Turn Road to Route 260.  Traffic on the west side of Route 261 must make a right turn and exit on 27th Street to G Street to Route 260. Traffic south of Route 260 along Route 261 on the east side of Route 261 must make a right turn and must turn left onto Route 260.  Traffic on the west side of Route 261 must turn right and continue along Route 261 to Summer City Blvd or continue south to Ponds Wood Road and proceed to Maryland Route 4.
Thanks for your cooperation and help, and we hope you have a wonderful Independence Day celebration.