The Town of Chesapeake Beach began as the dream of developers of the late 19th century who planned a grand resort on the shores of the Chesapeake Bay. The State of Maryland granted a charter to the Washington and Chesapeake Beach Railwa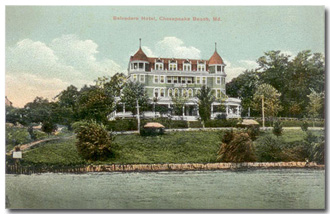 y Company in 1891, and in 1894 the W&CBR was granted a charter to incorporate the Town of Chesapeake Beach. The grand schemes of the W&CBR were never to be implemented, however. A new company, the Chesapeake Beach Railway Company, took up the idea in 1896. This company completed the railway, and on June 9, 1900, the resort staged its grand opening. As the years progressed, the adjacent community of North Beach continued to develop as a neighboring cottage community.
From 1900 until 1930 Chesapeake Beach was a thriving independent community. People would mainly come for day trips by railway and steamboats like "The Dixie" and "The Dreamland." Only 28 miles from Washington, D.C., people with more leisure time would flock to Chesapeake Beach for the cool breezes and salt water.
Overnight visitors could stay in the luxurious Belvedere Hotel (above), which was built about 1900. It was located on the north side o
f 17th Street overlooking the Bay before it was destroyed by a fire on March 30, 1923  (The Overlook townhomes of the CSHOA are now located at the site of the Belvedere Hotel.). The resort consisted of a boardwalk over the water and a pleasant park and picnicking area on the nearby land. On the boardwalk, one could find a bandstand (or band shell, left), performing bears, games of chance, a carousel, casino, theaters, and many restaurants. A roller coaster, called "The Great Derby," was constructed over the boardwalk about 1900 and operated until the late 1920's.
The Chesapeake Beach Railway brought people to the two beach town until 1935 when bankruptcy forced the railway to close down its operations. Seaside Park opened in 1930 and all the amusements were moved to land. In the late 1940s the management of the Park once again changed and so did the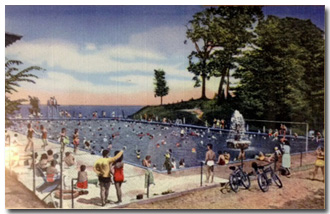 name; the park would be known as Chesapeake Beach Amusement Park until it finally closed in 1972.  The neighborhood of Chesapeake Station was then built on the site in the early 1980s, each street paying homage to the rich history of the site – Arcade Court, Bandshell Court, Dentzel Court and Carousel Way. The pool depicted here was located off of what is now known as Carousel Way, with the hill to the right providing a reference point to anyone walking through the community.
The neighboring towns of Chesapeake Beach and North Beach grew up together in conjunction with the resort. Both towns supported popular bayside activities and entertainment as well as shops. For many years the fire hall for both communities was located in North Beach while the public school was in Chesapeake Beach. Seasonal and year-round homes were built in both communities, and the population of the area grew.  [Above photos Courtesy of the Chesapeake Beach Railway Museum]
For more Historic Photos, click here
The Community known as Chesapeake Station (outlined in yellow)